I have loved weaving on these simple looms this summer. I love that I can play around with the basics of weaving without the expense of a full sized loom, not to mention the room it takes up. These nifty looms fit in my knitting bag and the possabilities are endless. I have explored different patterns in the weaving, different types of yarn, and different color combinations. I don't know what I'm going to do with all these shapes once summer ends, but I guess I'll be into geometry this fall.

Triloom woven triangles of course! (Clockwise starting at the top left: Purple Mohair, Acrylic chenille, Handspun wool by Me)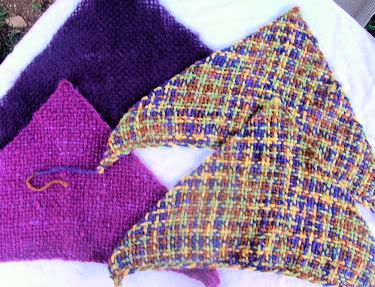 Weavette Loom Woven Squares and Rectangles. Also, an Inkle Loom woven band!